GreenStone Steel's 2019 Product Line
We Specialize in Unique Stainless Steel, Silicone, & Magnetic Solutions
The Stainless Steel TravelMaster
The TravelMaster is our flagship product providing shops an alternative to Glass.
Function Is Beauty. When people see how easily the TravelMaster sets up and breaks down, you'll pique their interest. Just show them how tight our tolerances are and how rugged the modular slip-fit design is and watch it sink in!
Stainless Steel smokes as clean as glass. People who understand this fact really get our design. It's the easiest water pipe to clean in the world and it's bulletproof. It's simple to keep clean without any worries…
We have always offered a Lifetime Warranty on the TravelMaster. We've never had a single unit returned!

Simply the most Rugged & Functional water pipe you can imagine for Camping, Fishing & Urban Travel!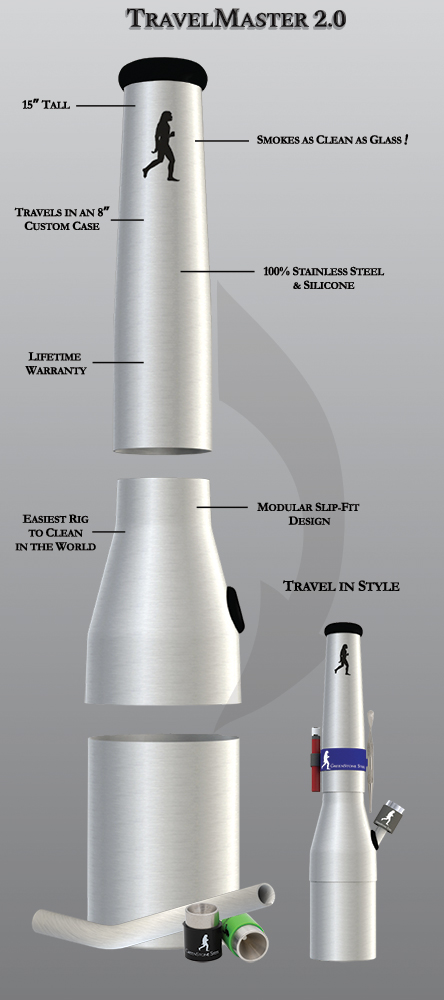 3 piece, modular slip-fit design. Like a martini shaker
There are no threads. Our tolerances are very fine. The body is warrantied for life to be 100%  watertight.
Wholesale Inquiries Call our 800# or contact us at info@greenstonesteel.com
Magnetic Dab Tool, Poker
&

Lighter Kit
Our Magnetic Dab Tool, Poker & Lighter Kit is perfect for retail shops looking for a spontaneous sale item at the counter. Offer your customers a cool new product they've never seen before and increase your Dab Tool sales. Each Kit has everything needed to set up 2 separate Rigs.
Dab Tool on a Small to Medium Concentrate Rig
Poker & Lighter on a Medium to Large Flower Rig
Includes a hi-quality combination Dab Tool & Poker, 4 magnets and 3 food-grade silicone bands. All in a small clear tube with green and yellow vinyl caps. Comes with 60 pieces in 5 x 5 inch clear plastic pickle jar. Your ROI is excellent for a small space on the counter!