The Stainless Steel TravelMaster® 2.0
The TravelMaster® 2.0 is our flagship product providing customers with an alternative to Glass. Perfect for Camping, Boating & Urban Travel.
Function Is Beauty.  The TravelMaster sets up and breaks down, in less than one minute. The tolerances of our modular slip-fit design are so tight we guarantee it to be watertight forever!
Stainless Steel smokes as clean as glass. People who understand this fact really get our design. Industrial kitchens, cookware, silverware & water bottles are all made out of Stainless Steel for a reason. There is no residual taste and it's easily sterilized. It's the easiest water pipe to clean in the world. It's simply a workhorse.
We have always offered a Lifetime Warranty on the TravelMaster and we've never had a single unit returned for defects.
New Aurora Rainbow TravelMaster 2.0

Simply the most Rugged & Functional water pipe you can imagine for Camping, Fishing & Urban Travel!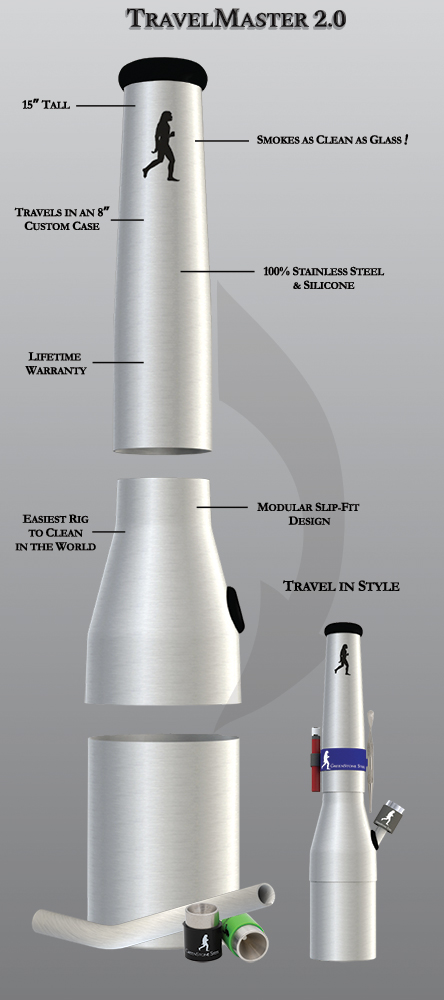 3 piece, modular slip-fit design. Like a martini shaker
There are no threads. Our tolerances are very fine. The body is warrantied for life to be 100%  watertight.
Wholesale Inquiries Call our 800# or contact us at info@greenstonesteel.com
Magnetic Tool, Poker
&

Lighter Kit
Our Magnetic Dab Tool, Poker & Lighter Kit is perfect for all sizes of Glass Rigs. Each Kit has everything needed to set up 2 separate Rigs.
Dab Tool on a Small to Medium Concentrate Rig
Poker & Lighter on a Medium to Large Flower Rig
Includes a high quality combo Dab & Poker Tool, 4 rare earth magnets and 3 rugged silicone bands. All in a small clear tube with green & yellow vinyl caps.