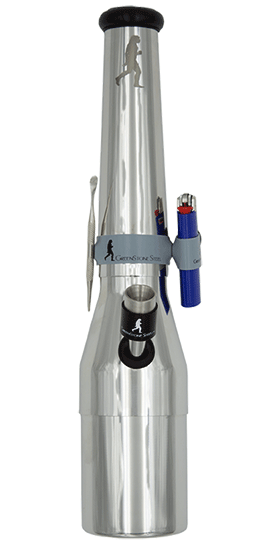 GREENSTONE STEEL
Creators of the Stainless Steel TravelMaster™
GreenStone Steel provides a Unique, Functional, Timeless Design.
Our Stainless Steel TravelMaster is GUARANTEED TO SMOKE AS CLEAN AS GLASS!
Our design is Fundamentally Superior when it comes to Cleaning, Traveling and Ruggedness.
It's as easy to clean as a Martini Shaker and is designed to last a lifetime without any worries.
Our Magnetic Dab Tool, Poker & Lighter Kits contain high power "rare earth" magnets, food grade silicone bands, and a quality magnetic (410 series) Stainless Steel Dab Tool.
Function Is Beauty
We have boiled the water pipe down to the most functional design possible. Our 3 piece slip-fit body is, hands down, the easiest water pipe to clean ever made. It's virtually indestructible (you won't worry about breaking it when you clean it) therefore, it's easier to keep cleaner. There are no threads to wear out. The entire body is completely smooth. It's simply the perfect design for Campers, Mariners & Urban Travelers.
A longtime customer recently referred to us as the DeLorean of water pipes.
The TravelMaster™ stand's 15″ tall and collapses down to only 8″ in travel form.  Our custom Hexagon carrying Case is perfect for urban travelers and backpackers alike.  Break it down in 30 seconds, rinse it out, put it in the case and throw it in a pack. Done!
Smokes as clean as glass  ♦  Assembles in seconds  ♦   Lifetime Warranty!*
MAGNETIC DAB TOOL, POKER
&

LIGHTER, KIT

Everything always right where you want it
And your spoon or poker never touches the ground!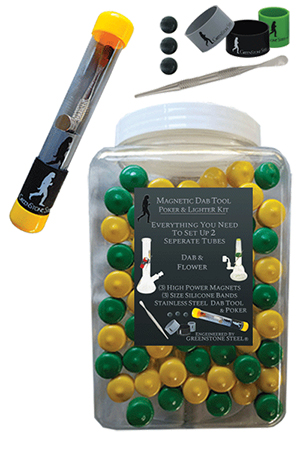 GreenStone's Magnetic Tool Kit has everything you need to set up (2) separate Water Pipes…A Dab Rig and a Flower Rig
It contains a magnetic (410 series) Stainless Steel Dab Tool/Poker, 4 rare earth magnets, and 3 food grade silicone bands. The small band is for your lighter (fits all lighters). The medium band is for Dab rig (1″-1.25″) And the large band is for your medium-large water pipe. (1.5″-2″). We've covered all the bases.
♦ Everything comes in a sweet little clear tube 
♦ Price point for these quality components is exceptional.
The Best Cleaner for the Travel Master
Biodegradable, VOC free, concentrated water pipe cleaner
Perfect for cleaning your TravelMaster.
Designed specifically for cleaning Stainless Steel and metal pipes.
Works great on glass too.
KLEEN GREEN GOLD is concentrated.
One 4 oz bottle makes 16 ounces of cleaner.
This is the best clener for your TravelMaster you will ever find