Fundamentally Superior When it Comes to Cleaning and Traveling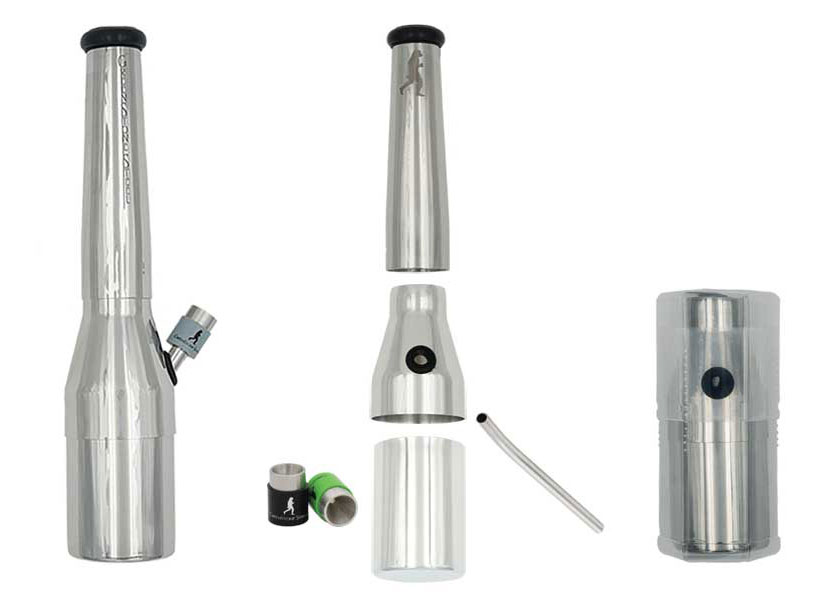 GreenStone Steel's flagship product – The TravelMaster has a 3 piece modular, slip-fit design making it easier than any other water pipe to keep clean and travel with.  We wanted to create a product that was elegant, functionally flawless and more rugged than glass.  
♦Stainless Steel is Guaranteed to smoke as clean as glass!
♦Lifetime Warranty 
♦ The slip-fit is 100% Waterproof 
♦  The mirror polish is easy to clean  
♦  Sterilize it in the dishwasher
Travels in a 8″ custom Telescopic Hexagon Case
Universal Magnetic Dab Tool, Poker
&

Lighter Kit For All Rigs
As a perfect compliment to every water pipe, we created a universal Magnetic Dab Tool,Poker & Lighter Kit that has everything you need to dial in 2 Rigs.
Each kit comes with (4) high powered magnets, (3) silicone bands and a quality Dab Tool & Poker.  Everything comes in a compact clear tube. The kit was designed as a quick purchase item at the counter with a good margin. Offer your customers something they've never seen before.
Designed exclusively for retailers, our clear pickle jar comes with 60 Magnetic Tool Kits individually packed and labeled. See the Assembly Video below.
Displaying the Components is Key!
Over the years we have found the way you display the TravelMaster makes all the difference. The image to the left shows the ideal way to set up the three forms of the TravelMaster in your display. It takes less than 8 square inches of real estate in your case.
Place an assembled unit and one in the Travel Case next to each other. In front of them place the (3) body components . Most shops will place bowl & stem in the very front. This makes it easy for your customer to see that the various components are actually the same Rig. It also helps to them to see how simple it is to disassemble and clean. The increase in sales is dramatic.
People really need to see the entire system in all it's forms.  Placing one assembled piece on a shelf behind the register simply won't show people how it comes apart and breaks down for Travel. They are much more likely to engage with it, ask questions and understand what makes the TravelMaster so different than any other water pipe.
♦ Modular slip-fit Body assembles and disassembles in less than a minute
♦ Easiest Water pipe in the World to clean. Sterilize it in the Dishwasher!
♦ Because it's indestructible and cleaning is easy, people keep it cleaner
♦ Finally, Lifetime Warranty and Stainless Steel Smokes as clean as glass!
Customer Service
&

Support is Key
Ask About our Guaranteed Sale
Same 800 number for over 20 years. Not one unit ever returned!
Credit Cards or Checks accepted
We make purchasing easy by taking credit cards or checks for your purchase.